Our Backyard Chicken Story
Our chicken story began twenty years ago. My husband, Curtis, and I have gone back and forth about having backyard chickens. He would want to get started, and I didn't want the responsibility. Then, I would get excited about it, and he would not. We never got serious about it until I decided that raising chickens could be a significant part of our home education.
After much debate on what to buy or use for a coop, we devised the idea of remodeling the boys' cedar playhouse collecting dust. The remodel became a family event that several family members took part in. Grayson and Grant learned to use measurements, saws, hammers, and nails. We painted the floor and trim, added some wagon wheels, and our chicken coop was born!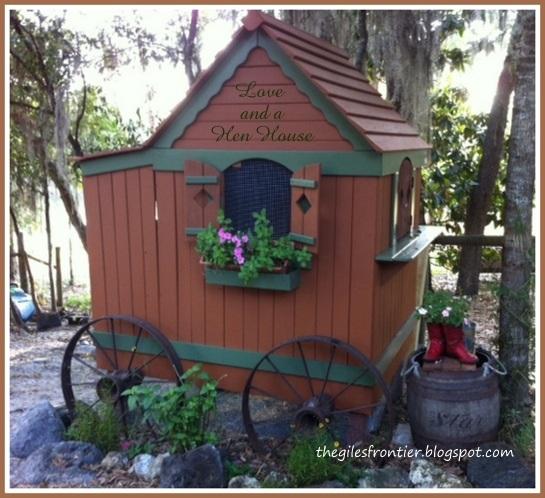 Eight Years Later
 Eight years later and we are still learning and loving our backyard chickens. We created charts to track each hen's egg production, started an egg business that pays for feed and created cute tote bags made from empty feed sacks. We sold those bags in our family enterprise. Backyard chickens were the best thing we have done in our homeschooling experience. I am not sure who has learned more, the kids or the adults.
Each of our hens has different personalities. They respond to each of us in different ways. They won over our hearts. I will likely be running an old lady's home in my backyard for aging hens. I already do. We have two girls left from our original seven. They hang in there and still produce an egg every now and again. I can't wait to start with a new flock and add to our chicken story.
Caring for animals is a continual lesson of tremendous value. If keeping chickens is not in your future, find someone with a coop and visit their flock for an afternoon. Have their children show your children the responsibilities required for fresh eggs. Perhaps visit a local farm and interact in the care of the animals for the day.
Animals of any kind can become a unit all their own in your children's education. We had no idea getting a flock of chickens would become an ongoing unit of study for years to come. Together, our family has learned many valuable lessons by keeping backyard chickens.
In the video, I go over some of the basic anatomy of a chicken. This can be helpful when you start your own backyard flock and create your own chicken story.
beaks
egg color
eyes
varieties
feathers
Learning where your food comes from and the cycle of how food gets to the table is a great life lesson. The lesson is a glimpse into the plan God has designed for us. All ages can participate in the following lesson on different levels, whether you have chickens or not.